Post Office Money Mortgages has conducted research to find average sales times across 20 UK regions, with Liverpool taking first place with an average sales process of 108 days.


The figures imply that this is the amount of time it takes for a property to receive an acceptable offer, thus being removed from the market.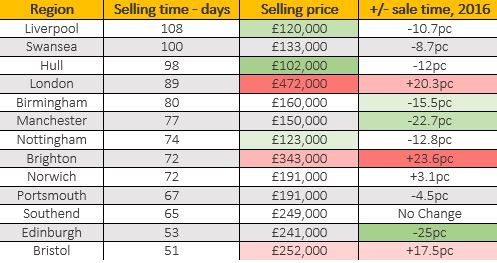 The table shows that London, unsurprisingly, is near the top of days taken, selling price and increase in waiting time in 2016. Edinburgh, meanwhile, has had a 25pc decrease in sales time this year.


David Hollingworth, from mortgage advisor London & Country, said:


"The time it takes to receive an offer on your property will depend on a huge variety of factors. That will include the number of properties on sale in the area, the number of buyers, and the quality, condition and location of the property.


"On top of all that it will be important for the price to be pitched right. If all those things come together then there's no reason why a sale may not be agreed quickly, especially as demand from buyers remains strong.


"If you are looking to buy and keep the process as short as possible it will make sense to have checked out your mortgage options and be ready to go as soon as your offer is accepted. An advisor will help you target the right deal and lender, and having all the required paperwork to hand will help the lender process your mortgage application quickly.


"For those planning to invest, make sure you consider the length and strength of the property chain when scheduling your move."
We have partnered with London & Country to provide free mortgage advisor from a panel of over 60 UK lenders. To find out more please visit
our partners page
.