Adding space to your property is one way to add value.
But using the space you have in a better way can boost your property's appeal and make your life easier at the same time.
One way to utilise your space is building a walk-in wardrobe – and they're far easier to construct than you might think.
Here, we'll check out some great walk-in wardrobe examples, before outlining exactly how you can build one for your property…
Walk-in wardrobe ideas
The main aim with any walk-in wardrobe is to create order and make your life easier.
The space you have will usually dictate what you can and can't do when building your new walk-in wardrobe, but here are some amazing ideas to get you thinking…
Convert an existing room
If you're lucky enough to have a spare room available for your walk-in wardrobe, your options for the space will be almost limitless.
This amazing space was created in a spare bedroom and doubles up as a wardrobe and dressing room – a really spacious and organised room that also shows off your clothing in a great way, too.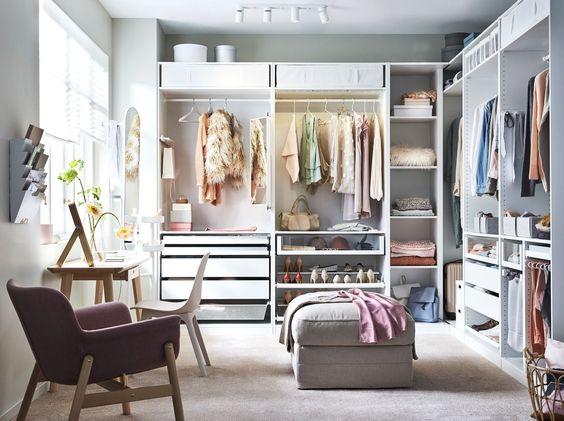 Frame off part of your bedroom
Not all walk-in wardrobes need to be huge, expansive spaces.
Sometimes, all you need is functionality and good order, which means if you have a large enough bedroom, you can steal some space for your walk-in wardrobe.
This example is a great use of space and shows what can be achieved by pinching a little square footage and putting it to better use.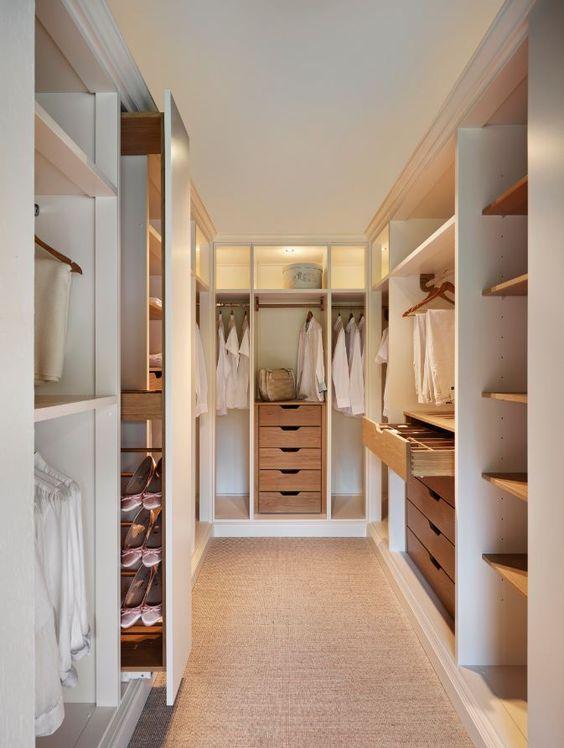 Keep things simple on a small budget
Looking through examples of amazing walk-in wardrobes online, you could be forgiven for thinking that you need a huge budget to do the work.
This simple, but effective space, shows that's not always the case.
Whether you're using a spare room for your walk-in wardrobe, or you're taking some space from your bedroom, using simple storage solutions will help keep your budget in check.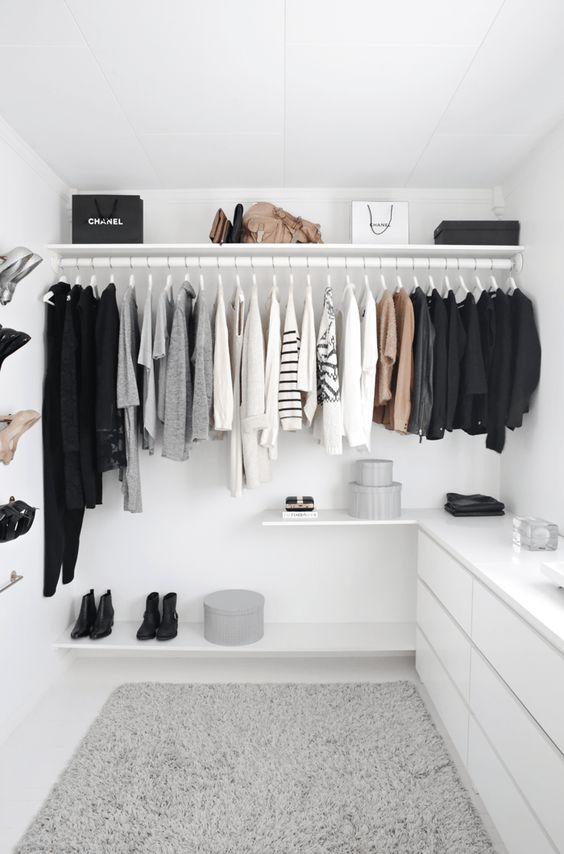 The importance of lighting
Your walk-in wardrobe shouldn't just be a space to store your clothes effectively.
Its design should stand out and complement the rest of your property.
The key to great walk-in wardrobe design is often lighting – as most spaces won't have the luxury of windows, unless you're using a stand-alone room.
In this example, the owner has used clever lighting to really lift their walk-in wardrobe, meaning it's not only functional, but looks great, too.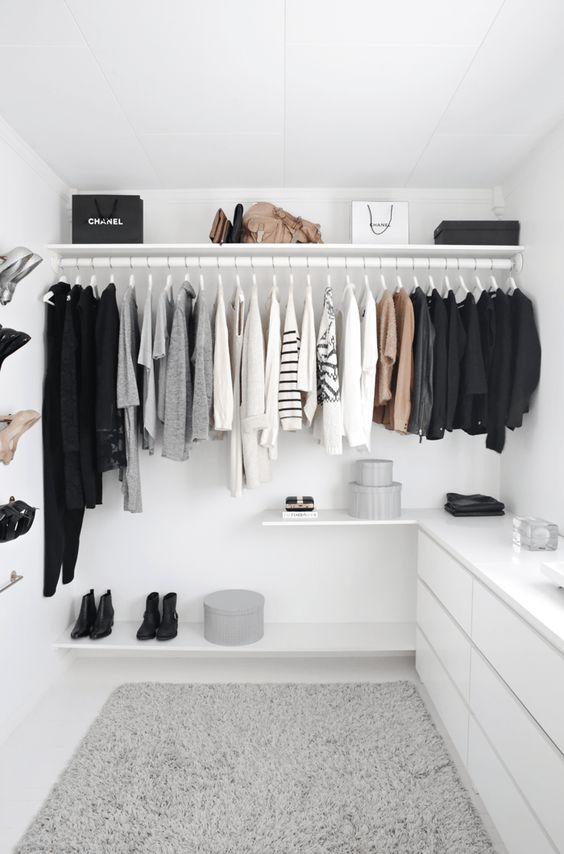 Small walk-in wardrobe ideas
Having limited space doesn't mean you can't make a real statement with your walk-in wardrobe…
Using your space effectively
Making use of every inch is key when building a walk-in wardrobe in a tight space.
And that can mean getting creative with your storage solutions.
In this walk-in wardrobe, the owner has crammed a huge amount into a small space by using different sized drawers.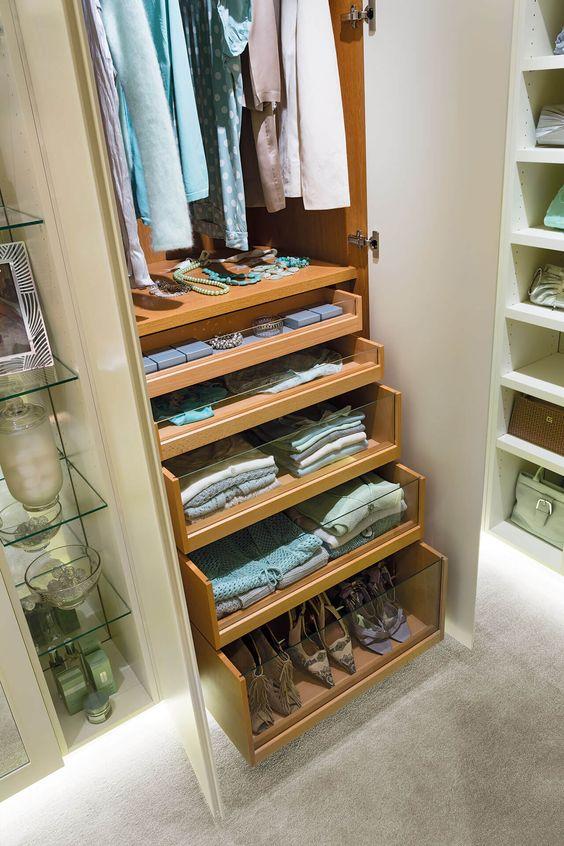 Shoe knew…
Shoes can be difficult items to store without using large amounts of space – especially if you have lots of them!
The creator of this walk-in wardrobe clearly thought this issue through and the neat shoe drawer system means their footwear is nicely stored away in a small space but also easily accessible, too.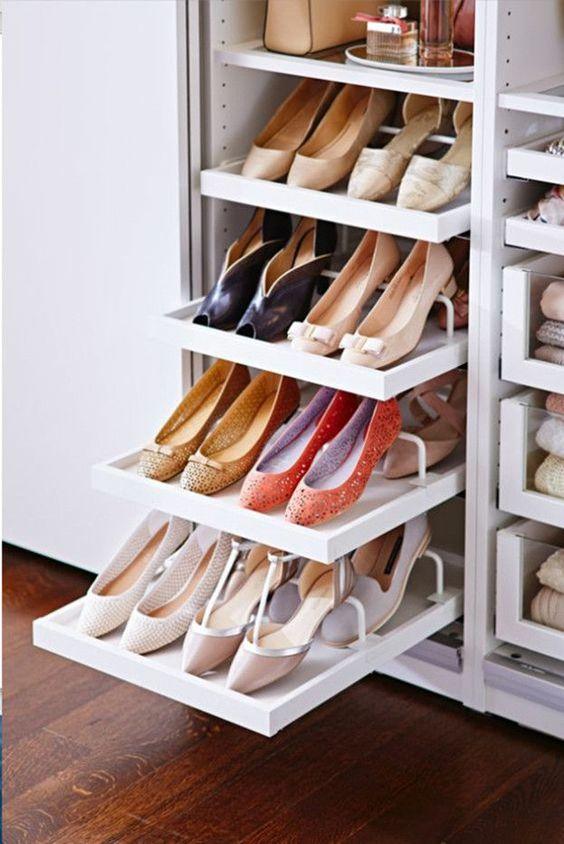 Walk-in wardrobe storage
Storage is key in any walk-in wardrobe and there are some ingenious ways you can use the space you have available for your project…
Space-saving storage
Utilising corners of your wardrobe space is a great way to grab a few extra inches to store your things.
The builder of this walk-in wardrobe had that in mind when they installed a revolving floor-to-ceiling shoe cupboard neatly in a corner.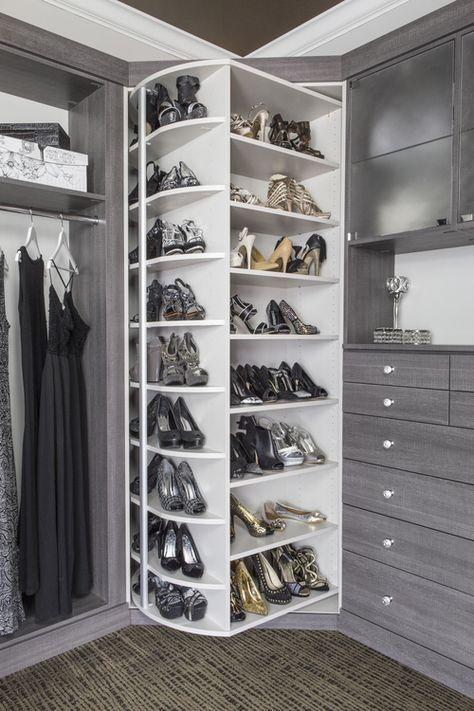 How to build a walk-in wardrobe
So, you now have some great ideas for your walk-in wardrobe space.
Now it's time to construct it.
Firstly, decide where your walk-in wardrobe will be. Are you going to steal some space from your bedroom or build your wardrobe in a spare room?
If you have a bedroom alcove, this could be a great space for your walk-in wardrobe – you'll just need to create it by building some partition walls…
What you'll need
Lengths of 2x4
A nail gun or hammer and nails
A circular saw or hand saw
A spirit level
Framing square
A tape measure and pencil
Plasterboard
Take measurements
Measure the height of your proposed wardrobe space from floor to ceiling
Measure the length of the wall space you'll use for storage
Measure the depth of the wardrobe space
Prepare your space
Lift up the carpet, if you have it, where your wardrobe will be – you can cut and lay again once your space is complete
Pull off skirting boards on walls where you'll be installing storage units
Build your partition wall and door space
Mark lines on your floor and ceiling where your top plate and footer plate frames will sit
Cut two lengths of 2x4 for the length you want your partition wall to be. Make marks on your top plate and footer plate at 16-inch intervals, which is where your vertical studs will sit
Remember to leave the desired space for either a door or opening to your wardrobe
Cut as many lengths of 2x4 that you'll need for the studs, to match the height from the floor to the ceiling, minus the depth of the top plate and footer plate
Nail your studs to your footer plate at 16-inch intervals, leaving the space for the door or opening, and then nail your top plate on top
Lift your partition wall into place and position along the marks you made on your floor and ceiling
Use a level to make sure your wall is straight and then nail to ceiling joists and floorboards through the top plate and footer plate between the studs
Repeat the process for any side walls if required
Fix your drywall
Cut your plasterboard using the height and width of your partition walls and fix to your studs using drywall screws
Once your drywalls are up, fill the gaps between boards with filler or bring in a plasterer to skim your walls before painting and installing storage inside your wardrobe
Further reading…
Now you're fully up to speed on building a walk-in wardrobe for your home, it could be time to add some other touches to your property.
Take a look at our guide to the best indoor plants for your home.