The typical price of a property coming to market in July was 1.2pc lower than in June - but Rightmove say this is a seasonal trend and not to be put down to the result of the EU referendum.


The Rightmove House Price Index, released Monday 15th August, stated what the market expected, - that 2016 is shaping up as "a year of two halves".


The Index points to April's stamp duty levy and the EU referendum vote as being the two most significant
Miles Shipside, director at Rightmove, "The average fall in new seller asking prices at this time of year has been 1.2pc over the last six years, so this month's fall is exactly in line with the long-term average."


"Many prospective buyers take a summer break from home-hunting, and those who come to market at this quieter time of the year tend to price more aggressively."


Sentiment surrounding the UK property market was negative in the aftermath of the Brexit vote. However, Rightmove's statement will reassure buyers and sellers alike that any price drops were to be expected regardless of the EU referendum's impact, and that recoveries in the market will occur sooner than expected. This usually coincides with families having the time to kick start property chains around the country once summer holidays have been taken and children are back in school.


Meanwhile, smaller properties (two beds and fewer) and family, three-bedroom homes are selling quickly (58 days average) and at price reductions of 0.5pc and 0.4pc respectively, so landlords looking to make a quick expansion to their portfolio can look to these for a better deal.


In terms of house price growth, in the year since August 2015, nine out of 10 regions in England and Wales have recorded inflation, with the greatest rates of growth in the East, South East and South West.

The national asking price in August 2016 is £302,000, up from £290,000 in August 2015.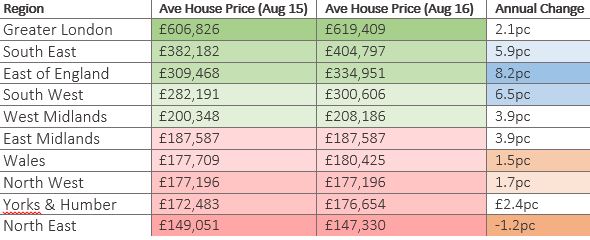 To find out more about how your local area is performing in both the sales and lettings market, or if you plan on buying or selling a property in the near future, contact your local office today.